This is the first of several things I am making from the Ponoko order I received earlier. Please allow me to present the WTF¹Laptop Stand!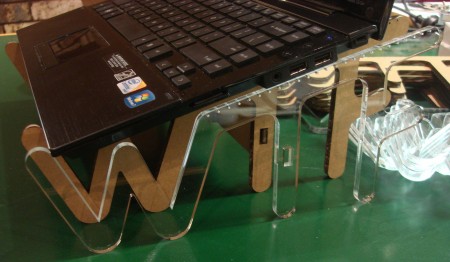 ¹Welcome to Finland / Waratah Train Fleet / Wednesday Thursday Friday / Worse Than Failure etc – Its not what you think.
Why the?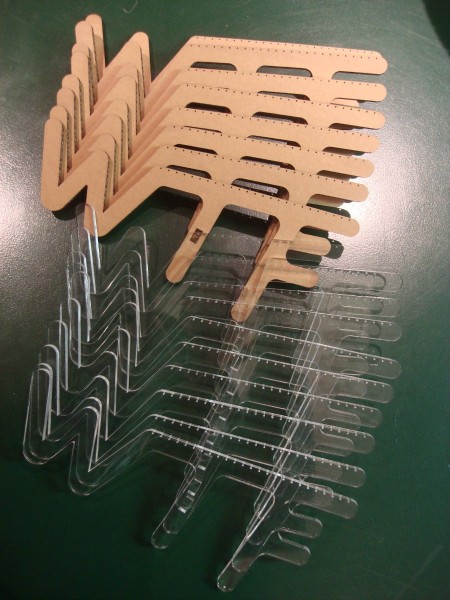 Ever since visiting Finland last year, it really nagged me that they didn't have any souvenir T-shirts that read 'WTF' (Welcome to Finland).  Add to that the announcement that the Train project at work I've been working on has been named 'Waratah', a fleet of trains called Waratah… Waratah Train Fleet, there really can not be a more suitable name.
How the?
A quick doodle on a notebook, quickie sketch in Inkscape and an upload to Ponoko later comes the WTF Laptop Stand.  The design is simple, two parallel sheets of acrylic or cardboard with joined WTF letters and a cross beam/bar to hold it together.  Snap fit so it can be taken apart quickly and put into a bag.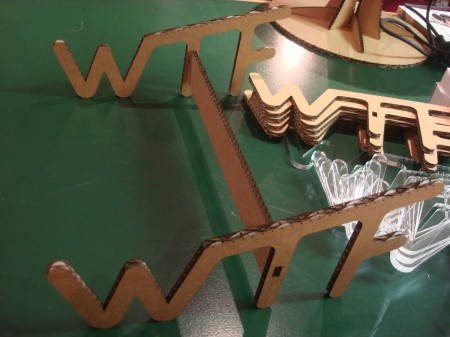 What the?
Of course with the 'quick doodle' and 'quickie sketch' comes a price – I screwed up by not remember to actually measure how wide my laptop actually was! Argh.  Luckily its rather trivial to cut up the cardboard version and shorten the joining piece to come up with something usable.
I also forgot to do some fancy logo engraving/cutting in that cross beam too 🙁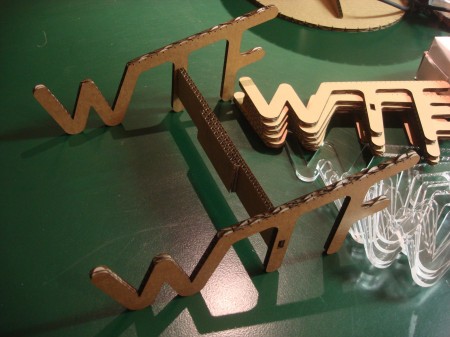 Now now, all better.  Now my laptop will actually sit on the stand properly 🙂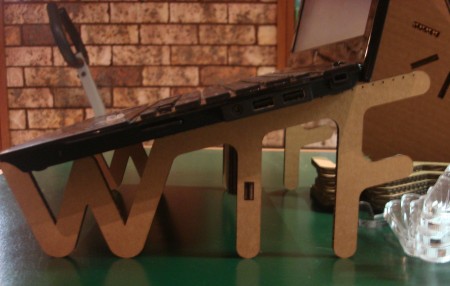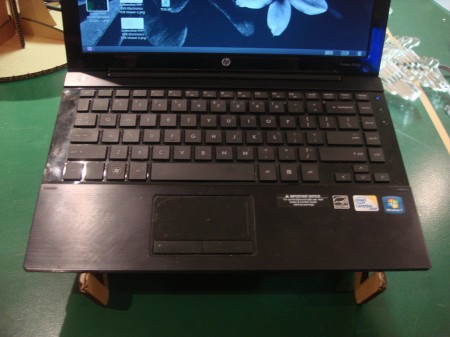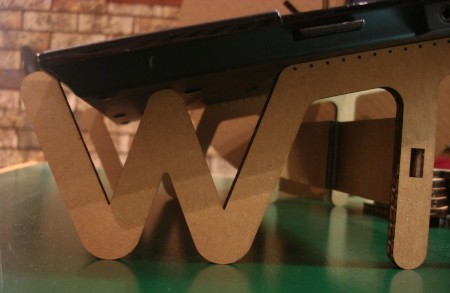 The last shot above shows how the 'W' actually holds the laptop up in place.  It also shows a minor design flaw where I forgot to add a fillet on the inside of the 'W'.  A fillet is important on materials such as acrylic to avoid create an unnecessary stress point where the piece might break.  Infact I broke a few trying to snap a piece that wasn't fully cut through … [Ponoko shipped me extra in the package which made up for it].
Where the?
Where are the design files so you can make your own?  Is anyone actually interested?  Let me know through the comments and I can post the 'fixed' [Cross bar length and the fillet on the 'W'] design files on Thingiverse if people ask.
Edit : Added to Thingiverse!  http://www.thingiverse.com/thing:3529
What the? (Again)
Oh just remembered to preempt the 'what are those holes?' question, they are an optional feature for threading monofilament (fishing wire) between the pieces to form a weave.  Just thought it might look cool but haven't gotten around to it.  Recent obsession with monofilament will show in the next post…