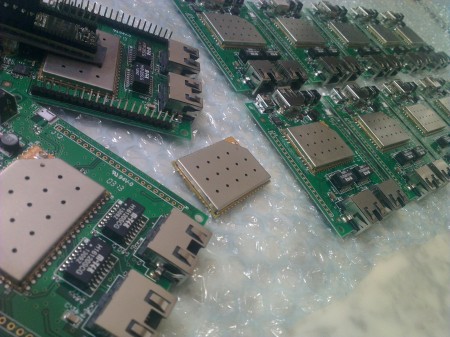 Yippee, I finally received a batch of Carambola2s in the mail today.  I had a couple that were ready for me to pick up a couple of weeks ago but didn't get it until Saturday…
So similar to the TL-WR703N I've prepared a standard image with most of the hacker stuff baked in for people to try out with a limited repository (not as comprehensive as the TL-WR703N one and definitely not compared to the 8devices/OpenWrt ones) compiled and available online.
I've also build the Image Builder again for people to remix and make their own images without doing the full OpenWrt build.
The following have been tried and seem to work :
Python

Python-libusb1

Pyserial

Python HTTP Server

USB Serial (ACM)

WiFi, Eth0, Eth1, Buttons

USBIP
Don't expect anything not to work, but it was worth noting 🙂
Someone really should donate me a 3G modem to test with…