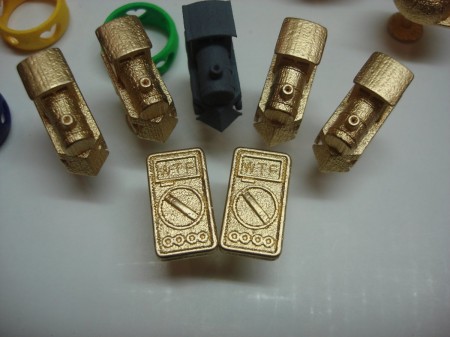 Most of my Shapeways Cufflink orders have arrived!  Only waiting for a few more designs but these came out so well I thought I'll share them first.  For those of us who are curious on the material, these are 3D printed Cufflinks made out of Stainless Steel, impregnated with Bronze then plated with Gold!  Yup, what a lovely combination of materials.  Lets take a tour of the other designs, I'm going to warn that there will be shameless plugs to the Shapeways website for you to buy them if you're interested 🙂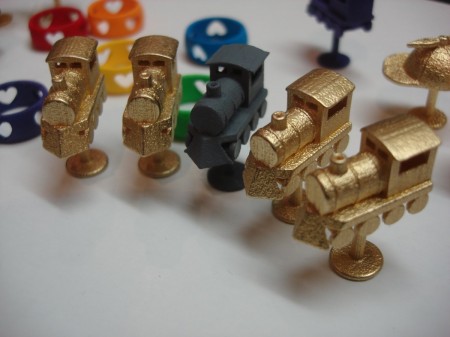 A custom design of the old style locomotive, wanted these for no other reason than I thought they might look cute.  The first comment on the cufflink I got was "..the rear wheels should be larger!" – what I get for working in a company that designs and builds trains…
Lovely detail including an open cabin and a hollow chimney, these demonstrate the fine capabilities of the 3D printing process (though these sure make painting the plastic versions tricky!).
Buy Locomotive Cufflinks Here!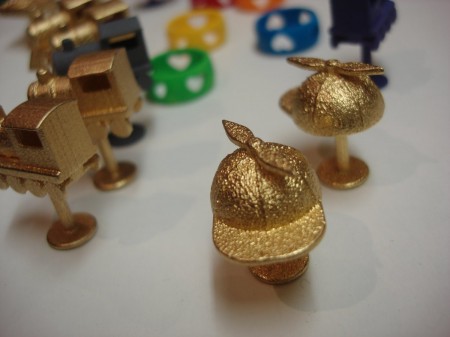 A propeller head (also spelled propellor head , and sometimes shortened to prop head or prophead ) is jargon for someone who is exceptionally, perhaps weirdly bright or knowledgeable, especially in some technical field.
Geeky?  Check.  Cute? Check.  Win.  Enough said.  Actually, for something geeky like this – plain Stainless Steel pictured below looks better!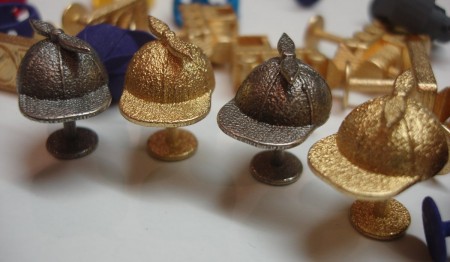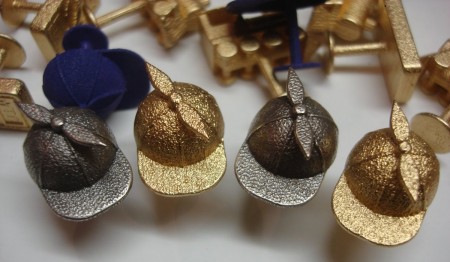 Buy Propeller Hat Cufflinks here!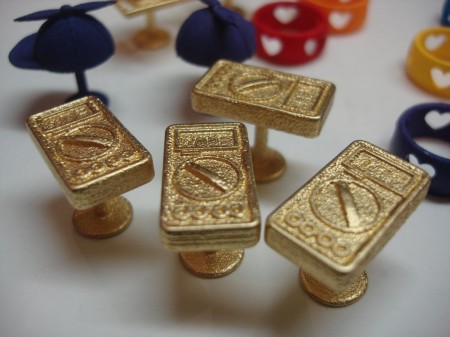 Created for my friend Adeline who said she wanted something that relates to her work like multimeters and screwdrivers, here is the WTFmeter Cufflink!  Well I told her it was a Multimeter, but I couldn't resist adding my favorite acronym onto the read-out…I wonder if she will notice?
Buy WTF-Meter … I mean Multimeter… Cufflinks here!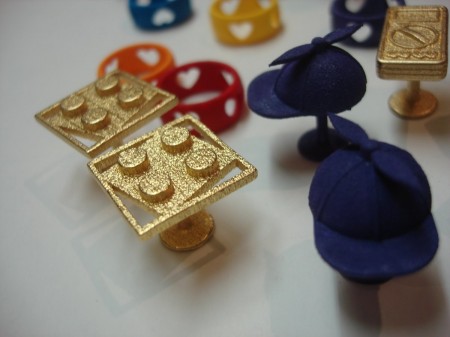 I struggled for a name when I first uploaded these, I'm still struggling for a name.  These are almost like lego blocks, but not so I called them block cufflinks.  The idea came from the fact that buying all these cufflinks were starting to burn a hole in my wallet.  What if I could print the base cufflink in stainless steel (or gold plated stainless steel) and do painted plastic add-ons later?   There was no other standard than using good old Lego™ 'knobs'.  These make the design Lego™ compatible meaning I could actually sit a minifig on there…
The offset interior square plate and the square border makes this quite stylish even without attachments.  More on attachments later!
Buy these <untitled> cufflinks here!
That's all for now!
That's all folks! Hopefully my next batch of cufflinks and furniture designs come soon!