Weee, found that I had a crap load of spare motors hanging around from a mini motor shopping spree at Shenzhen in China last year so I thought I'll give the Up! 3D Printer a workout printing mechanical bits.
So far most of the demonstration models on the internet of this wonderfully "affordable" commercial ready-to-print 3D printer has been of decorative pieces and figurines etc.  The usual impressive stuff to try out on a 3D printer (guilty of printing an Elvis head/bust as my first test pieces).
What about Engineering prototypes though?  Will the accuracy of the printer suffice?  Are there any tricks?  Short answer is, yes it will work but there are tricks you need to know to work around the quirks…
What quirks?
1)With all FDM extrusion type printers, you'll have to print support material.  The Up! printer's in built software does a wonderful job of printing lovely automated support structures that snap off easily most of the time – but there are times where the support structure is a PITA to remove and/or affects the accuracy of the model.  Trick?  Orientation matters!  Orient the model to minimize support structures or to avoid requiring support structures in small cavities that will be difficult to clean later.
2)Up! printer quirk, solid is not solid.  The top surface of any model if it is 'flat' will not be a solid fill.  Not will any 'bottom' surface.  If you need a smooth surface, make it on side.
3)Erm I'm too lazy for a semi-decent post.  How about just a picture and a video to show it works eh?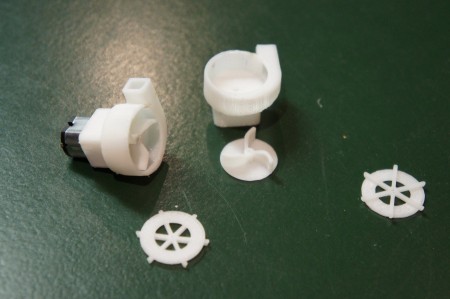 The impeller diameter is 17mm, so it is a pretty small motor.  Modelling took 30 minutes.  Printing too forever since I use 0.2mm and Fine settings on the printer.  Screwing up the impeller direction the first time because I didn't check, and having too tight a tolerance (17.8 diam in a 20mm hole) on the original impeller didn't help the print time (re-print time…)
Wee it works… now the micro 3d printer pump (Shapeways) and the micro 3d water jet pump (Speeding Rubber Ducky!!!)…
Update : Made an even smaller one here :- http://www.madox.net/blog/2010/11/22/super-miniature-3d-printed-pump-using-up-pp3dp-printer/