Yet another 'thing' I am making from the Ponoko order I received earlier. This one is simple, they're laser cut and engraved wedding cufflinks.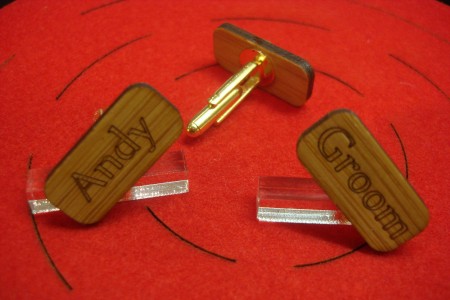 A simple rounded rectangular cut shape with the name or role of the wearer engraved on 3mm Bamboo.  The bamboo is treated with Danish oil to harden and protect it as well as to stain it to a darker colour.  Small golden cufflink blanks from eBay are then glued to the back to finish the piece.  The shape and fonts can be changed to suit the groom's interests too.
Very simple, very quick, looks nice and makes the wedding just a little bit more 'personal' for the photo shoots.
[Also have a 3mm Black Acrylic version, too lazy to photograph…]
Note : My name is not Andy and I'm not the Groom 🙂