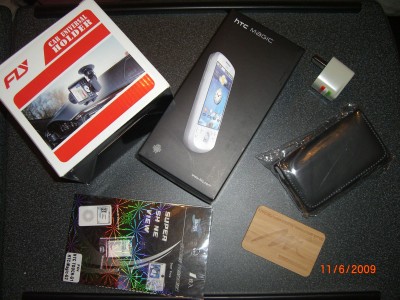 Ordered from BecexTech on monday evening, package arrived thursday – not a bad turn around time at all and price was reasonable.  The package was shipped from Hong Kong, but the original phone appears to be from Taiwan with some carrier logo on bootup and some pre-installed widgets/apps that can be quickly hidden away.  Very considerate of them to include a little Australian plug adaptor, its like $1AUD in HK, but costs like $10AUD ($50HKD) to buy one here…Wouldn't recommend getting that case for anyone else.  Screen protector was a perfect fit and a must have.
So far so good, Android has a really smooth interface and lots of eye candy compared to my dying (dead?) WinMo phone.  The only quirk is the on-screen soft keyboard is a bit quirky, especially with the capacitive touch which forces you to use your fingers…  Maybe I need to make my own stylus.
HSDPA on Vodafone works well, though the non-intuitive APN screen confused me for a bit (Its a completely blank screen with no buttons…hint:press menu key to get the 'add' option).  Simply used the settings I copied from Ubuntu (vfinternet.au) and voila…assume it'll work similarly for Virgin/Optus/Telstra, will give each a try at work tomorrow with those various SIMs.  Nice to know the Vodafone data sim allows calls in and out, because my Huawei ExpressCard died today…
Other Quick thoughts :-
GPS lock was freakishly quick at 10 seconds on a complete cold start.
The landscape<>portrait transition isn't as flashy as the iPhone/TouchFlo/WinMo ones, and its really annoying if you don't really want it to happen.
Its smaller and lighter than the iPhone which I've always viewed as too cumbersome…
There's handwriting recognition for Chinese on this phone since it comes from Taiwan, and it works amazingly well for both Chinese characters and English letters.  Infact I found it easier to use than the on-screen soft keyboard for a while…
The non-touchscreen keys are a godsend, makes the UI so much easier to use.
Base install is missing a few essentials like quick methods to turn on/off wifi/gps/bluetooth etc but easily remedied through a couple of app downloads on the market.
Android Market download/installs are a breeze…oh the fun I'll have there!
Youtube videos are played in landscape and the quality is noticeably reduced than on desktop.
Looks like a multiaxis magnetometer inside…digital compass works when phone is 'flat down' and also 'portrait held up'.  Oddly the Orienteer app says it doesn't work in 'landscape held up'???…
Interesting settings menu's where there were developer options for debug mode, it really is crying for me to write something for it isn't it?
Eeek ExtUSB connector… 🙁 🙁 🙁 🙁
No Skype App 🙁 🙁 🙁
No Citrix App…
I felt like a kid when I played with this phone and overall I'm a very happy camper!
A few more photos of the unpacking…