Shapeways has a tutorial on painting models printed using their 'White Strong & Flexible' (WS&F) material but not very much hints to go on for their other materials.  I had 'some' luck with using Rub 'n Buff on the WS&F material on the heart ring so I thought I'll give it a go on the black detail material from Shapeways.
One quick photo to summarise the result :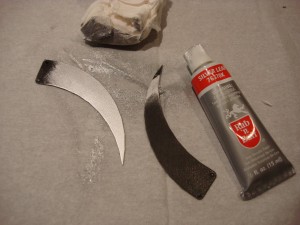 The finish is pretty good for a 20 second rub on.  I only used tissues to apply the rub n buff because i couldn't get my hands on any decent cloth and I didn't want my fingertips all silver again.  With some experimentation I noticed that it is much easier to apply the paint along the 'grain'.  Keep it mind that using this paint could get a bit messy so remember to work ontop of some tissue/newspaper!  (I used tissue ontop of this very laptop I'm typing on now).
Give it a try!