Or more correctly, how to open Canon CR2 Raw Files for editing in Ubuntu using GIMP.  F-Spot the default image viewer in Ubuntu already allows you to open Canon CR2 Raw images for viewing.
Gimp should come pre-installed with Ubuntu.  If you don't have it installed for any reason (uninstalled?), install it using the command :
sudo apt-get install gimp
Next you need UFRaw which is a utility to read and manipulate raw images from digital cameras.  Or in our case, it is better to use the GIMP UFRaw plugin.  Get it by using the command :
sudo apt-get install gimp-ufraw
Now wasn't that easy?  Now all you need to do is simply right click on any .CR2 file, Select Open With > Open With "Gimp Image Editor" and GIMP UFRaw dialog should appear like below.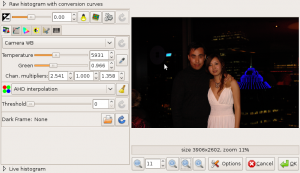 I had to collapse some of the options to make the dialog appear on my small laptop (800 vertical pixel) screen, so if you can't see the "OK" button don't fret and resize the window.  There are a few options you can tweak with before you need to click "OK" as shown below.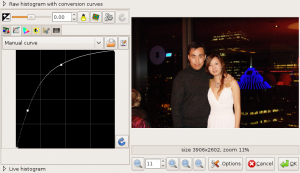 There's crop options too… but wonder why the 'usual' print aspects aren't there 🙁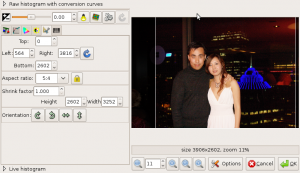 And finally, the CR2 raw image makes its way into GIMP for glorious editing… I think I'll add whiskers and cat's ears to her face now…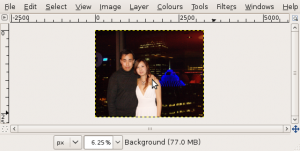 This post is dedicated to Andy Au!